The Adran Army is the main military branch of the country of Adro. Though smaller than those of their more populous neighbours, the Adran Army is widely accepted as the best army in the world. This is largely attributed to Field Marshal Tamas and his modernization of the military, including his ban on purchasing rank. The Adran army proved its mettle in both the Gurlish Wars and the Adran-Kez War. Even after losses suffered during both theses conflicts, it contains some of the brightest military minds of the Nine and Adran generals have been prized as foreign consultants for decades.
The Adran army is known to supplement, and be supplemented, by several domestic organizations that aren't strictly speaking, part of the Adran army. Chief among these are the Mountainwath and the Wings of Adom.
The Adran army is organized into brigades, each brigade consist of 5000 men. The Adran army can be estimated to have twenty brigades.
The Adran Army is comprised infantry, artillery and cavalry including dragoons, lancers and cuirassiers.
The known brigades are:
The Second Brigade under General Hilanska 
The Third Brigade under General Ket
The Seventh Brigade 
The Ninth Brigade under General Cethal
The Twelfth Brigade under Colonel Etan 
The Nineteenth under General Slarren
Their uniform is dark blue. They wore a shako.
Adran cuirassiers armor their horses as well as themselves. 
An Adran squad is twelve men strong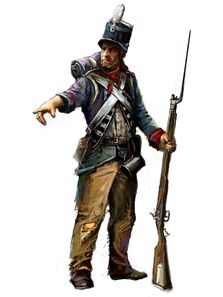 Community content is available under
CC-BY-SA
unless otherwise noted.